Estuary Services Limited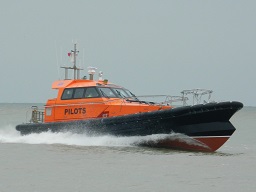 Estuary Services Limited is a subsidiary company owned by the Port of London Authority to provide a boarding and landing service for pilots joining and leaving ships trading to London and Medway. The company has 6 fast launches based at Ramsgate and Sheerness serve ships at the N.E. Spit Buoy, Margate Roads Anchorage, the Warps/Oaze Deep and the Anchorages at Southend and the Great Nore. These launches are available, subject to pilotage requirements, to transfer ships crews, personnel and small stores to and from vessels in the above areas.
Agents are advised that Crew Transfers (with exception of Maintenance Engineers, Surveyors and Compass Adjusters) will only be under taken Monday to Friday between the hours of 08:00- 15:00. The booking time is a requested time and ESL will endeavour carry out Crew Transfers within 3hrs of booked time. To carry out such transfer the ESL Pilot Boat will require the vessels to be underway.
NOTE: IF THE INFORMATION REQUIRED ON THE ONLINE BOOKING FORM IS NOT CORRECT OR INCOMPLETE TRANSFER WILL BE CANCELLED AT THE AGENTS COST.
For details please contact:



23 Military Road,
Ramsgate, Kent. CT11 9LG
Tel: 01843 583786 Fax: 01843 595664